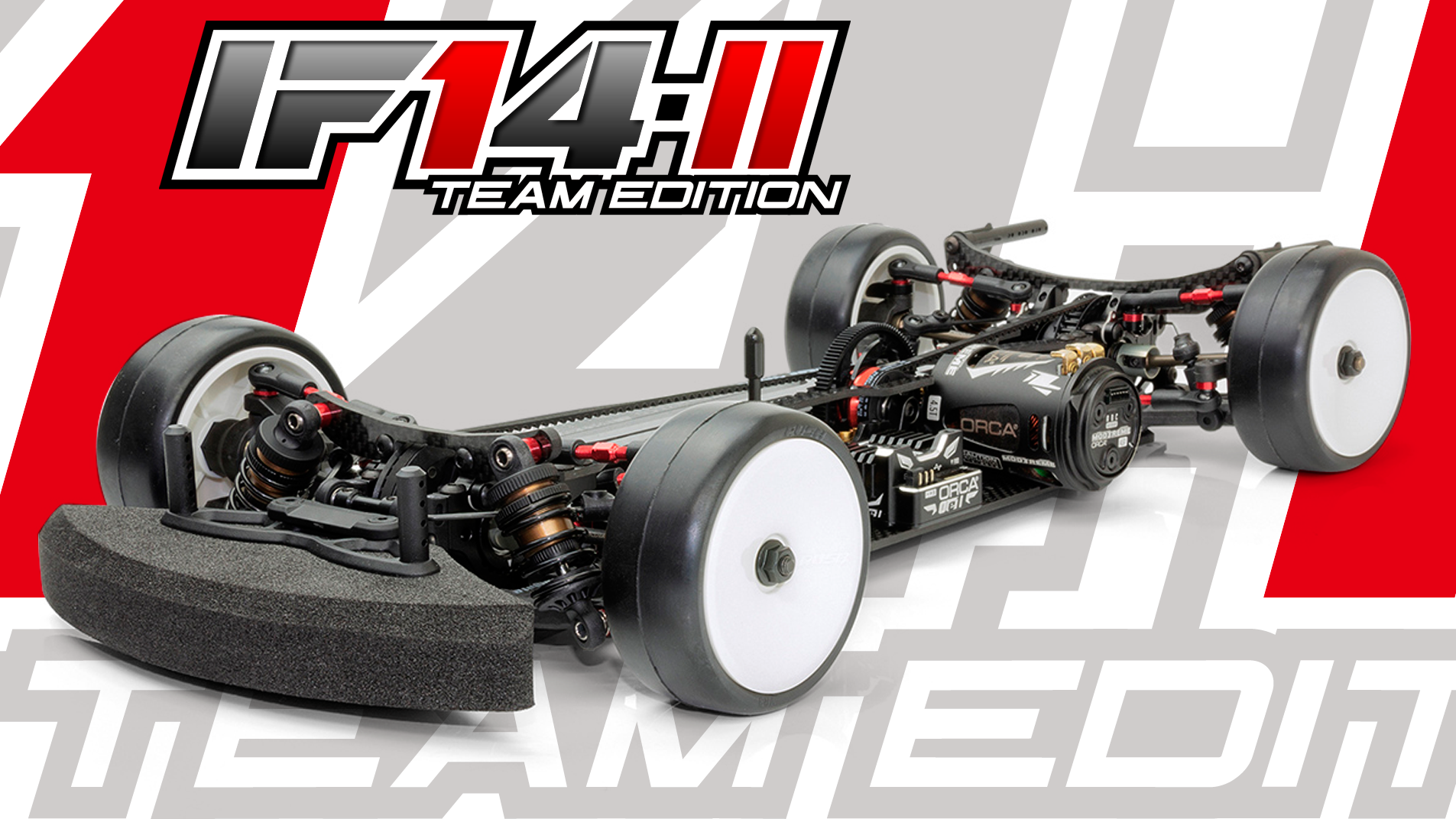 Developed for the 2022 IFMAR World Championship with direct input and test information gathered by Infinity team drivers. Major spare parts and optional parts are the same as IF14-2.

Design concept:
The rear section has been moved forward by approximately 1.2mm from the original IF14-2. This change in wheelbase and weight balance allows for faster cornering speeds and improved drivability.

Newly designed PRS aluminum C-hub (minus 2° caster angle) improves traction and corner speed.

The newly designed USP2 shock is 2mm shorter in overall length than the conventional USP shock. Plastic parts, pistons, and other parts are identical to those of the USP shocks, maintaining the commonality of spare parts.

New shock spring for use with the new USP2 shock is the newly developed SMJ Stealth Line Spring. The material and manufacturing process of the conventional SMJ Stealth Line springs have been revised to achieve a more smooth initial movement in the early stages of roll.

New aluminum rear wheel axles are 1.5g lighter per axle than the standard steel ones, contributing to optimized front-rear weight balance when PRS is used. These lighter axles also improve throttle response. Both the aluminum driveshafts and aluminum rear wheel axles are hard anodized to dramatically improve durability.
Existing useful option parts are included as standard. The Team Edition, a culmination of new and existing option parts for IF14-2, offers high potential in a wide range of track conditions and at all race speeds.
Newly designed parts for IF14-2 Team Edition
Newly designed USP2 Shock.
Newly designed Front and Rear Shock Tower, Upper Bulkhead.
Newly designed Alu C-Hub (Caster angle -2deg.) with PRS (Passive Rear steering System).
Newly designed Graphite Main Chassis.
Newly designed Graphite Top Deck.
Newly Rear Drive Belt.
Newly designed Lightweight Rear Alu Axle Shaft and Drive Shaft.
Newly designed SMJ Stealth Line Spring.
Optional parts now as standard features of the IF14-2 Team Edition
Alu Eccentric Bearing Holder 0.5mm (T162)
Alu Diff and Spool Outdrive (T240, T241)
Graphite (Super Hard) Lower Suspension Arm (T163-SH, T165-SH)
Graphite (Super Hard) Steering Block (T121)
Lightweight D.J. CVD Joint (T227LW)
Alu Top Deck Bridge -Flex (T243)
Alu Hex Wheel Hub 4.5mm (T100)
Ultra Low Friction Washer 3x6.5x1.0mm (A73610P)